The day's drive started on October 16, 2022 in El Paso at Lowes on Transmountain at 8 am, where Bob (335i) met up with John (740i) and family and Robert (X5M) and his family. The skies were a little overcast and they had some rain coming up US54 at the border checkpoint (hence the name Borderland Drive). Then Diego (M240) and family left Las Cruces heading across US70 to meet up at White Sands Mall where I joined the group. After some introductions, we headed up US82 with dry roads and temps in the mid 60's but we could see rain to the north.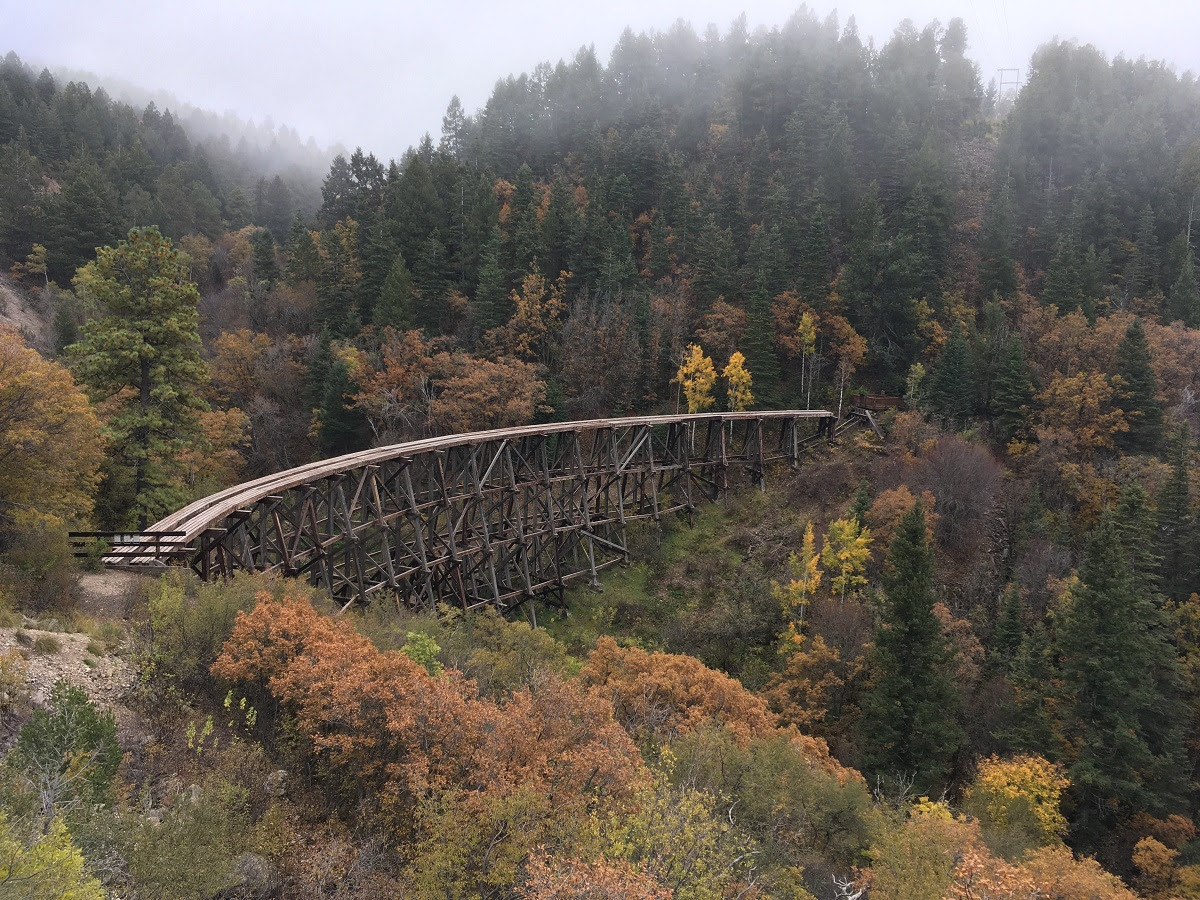 As we climbed in elevation the temperatures dropped to the mid 40's with fog and or mist and that's where it stayed the rest of the day. We stopped at the
Mexican Canyon Trestle
overlook for a quick break and some photos. The leaves were just starting to turn, adding some color through the mist. The trestle was built in 1899 as part of the railroad to haul timber from the Sacramento Forest down to the sawmill in Alamogordo and passengers back up to escape the heat of the desert below. It operated until 1947. From here we continued through Cloudcroft and turned on NM244.
This is a nice road with some twisties for a spirited drive, with alpine meadows, pine forests and weather that made you think you were in the Black Forest of Germany. We jumped over to White Mountain Drive that took us by
Inn of the Mountain Gods
where the road was being reworked and had to detour through their parking lot. This brought us into Ruidoso the backway where we met up with Dennis (M3 Comp). He and a group had come from Dallas for Balloon Fiesta and was now hanging out at his cabin. After a quick piss stop, I mean pit stop, we left and went through Ruidoso on NM48.
We turned on to Ski Run Road and this is where the fun really started. Switchback after switchback up we go. The temperature is dropping (I saw 37) and the fog was getting ticker. Which is good and bad – good I couldn't see how far down it was if I went off the road but bad because I couldn't see where I was going all the while, trying to lose Dennis who was stuck on my rear bumper. This high (Sierra Blanca 11,981ft), the Aspens have changed and the gold color is highlighted in the mist. At
Ski Apache
we took a group photo but quickly got back in the cars so we could get the seat heaters on to warm our butts. We headed back down the mountain with Dennis leading and the rest of us trying to keep up. It was now after 12 pm and everyone was getting hungry, so we went back to Ruidoso for lunch.
Farleys
turned out to be very good and handled all eleven of us with everything from pizza to chicken fried steak (which my brother claims is neither fried chicken nor steak). After lunch Dennis went a few blocks back to his cabin, Robert went shopping and the rest of us headed for home. Despite the weather we all had a great time and look forward to getting more participation in future events in the Borderlands. See you then and drive safe!
Watch Dennis Luczycki's video of the Ski Apace drive on a nice day from a GoPro attached to the tow hook of his M4.
If you have suggestions for events in southern New Mexico or the El Paso area, contact borderland@nmbmwcca.org